We manufacture plastic corrugated trays.
Our plastic fabrication company manufactures a variety of products for many different industries. One of these products is plastic corrugated trays. You can select from a variety of standard designs or work with us to create a custom design for your plastic corrugated trays, depending on what you need. We offer a variety of special cutouts, sizes, printing, colors, and other features you can choose from to make your plastic corrugated trays suit your exact needs.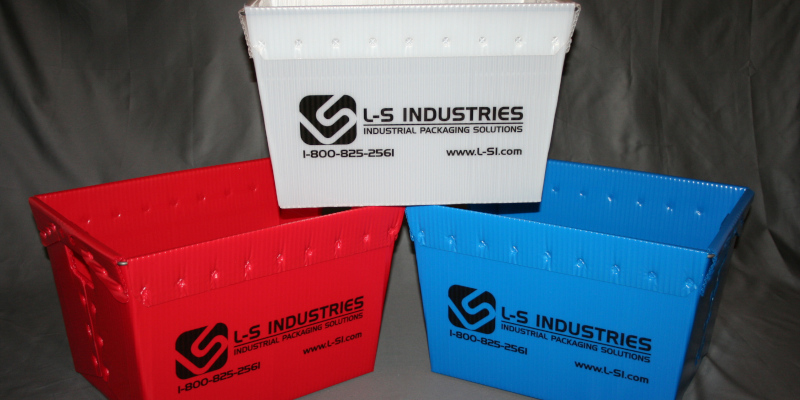 Our plastic corrugated trays are typically used for applications requiring a shorter height and lighter-duty task than our plastic corrugated totes. That's why they do not have the metal wire rims built into them. We can make trays that are straightwall or nestable (tapered). Once we have agreed on the specifications for the plastic corrugated trays you need, we will produce them in the quantity and style you have requested.
Our totes can be made "knocked-down flat" for easier shipping, or we can pre-assemble and weld them together so you can start using them right after they arrive at your location. Depending on your needs, you may want to order trays or totes or both for different parts of your operation. We are happy to discuss your needs with you and determine what will be most helpful to you.
Enhance the efficiency and productivity of your operations with our plastic corrugated trays or totes. Contact us at L-S Industries today to place an order or to learn more about the different sizes our plastic corrugated trays are available in.
TRAYS
Dimensions listed are Top Outside measurements
#5572
13.75″ X 11″ X 4.75″
Bottom Inside Dimension:
11 x 10 x 4.75 in
Nestable, welded
Quantity Per Pallet – 270
Weight: 0.54lbs each
#5573
13.75″ X 11″ X 4.75″
Bottom Inside Dimension:
11 x 10 x 4.75 in
Nestable, knockdown
Quantity Per Pallet – 500 (250 min)
Weight: 0.54lbs each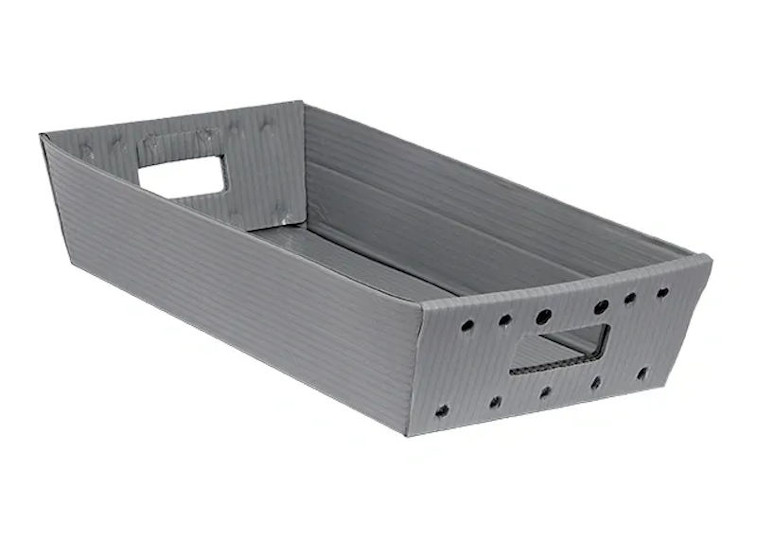 #5574
24.8″ X 11.25″ X 4.8″
Bottom Inside Dimension:
21.25 × 10 × 4.75 in
Nestable, welded
Quantity Per Pallet – 180
Weight: 0.8lbs each
#5575
24.8″ X 11.25″ X 4.8″
Bottom Inside Dimension:
22 x 10 x 4.75 in
Nestable, knockdown
Quantity Per Pallet – 500 (250 min)
Weight: 0.8lbs each
#5586
24″ X 12″ X 6.3″
Bottom Inside Dimension:
22 x 11.75 x 6.25 in
Nestable, welded
Quantity Per Pallet – 96
Weight: 1.1lbs each
#5622
18″ X 12″ X 4.5″
Bottom Inside Dimension:
16 x 10.3 x 4.5 in
Nestable, welded
Quantity Per Pallet – 210
Weight: 0.64lbs each