Plastic Corrugated Sheets
Plastic corrugated is primarily known for its use in the sign industry. You see it used for real estate or political signs on every street corner. Plastic corrugated is used in many other applications due to its lightweight and weather-resistance, like returnable packaging.
Plastic corrugated sheets are extruded in a few different ways. Different methods of extrusion create different qualities shown below. Typically weights and thicknesses can be adjusted in the extrusion process do create a solution for your application.
PROFILE BOARD (PP)
Polypropylene-based, profile board is a rigid, yet lightweight material and can be extruded to different thicknesses and weights.
SINGLE-FACE (PE)
High-density Polyethylene-based, this flexible material is great for parts separation and other applications where you need flexibility.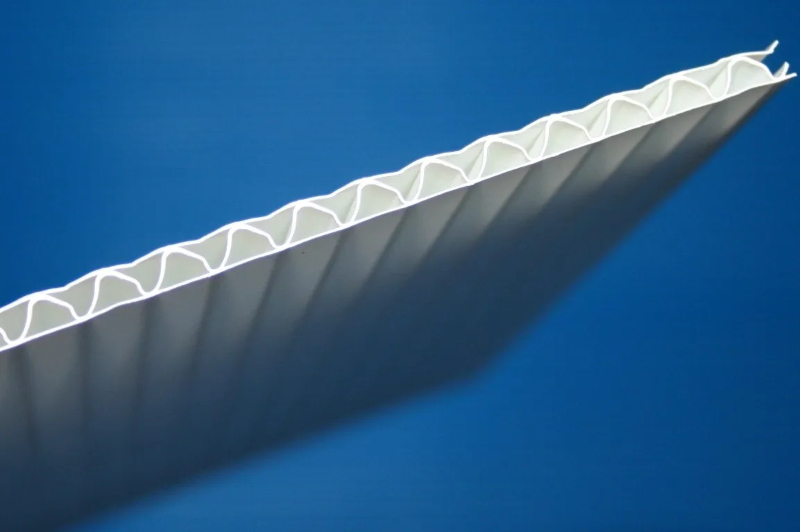 DOUBLE-FACE (PE)
High-density Polyethylene-based, this 3-layer material is perfect for forming totes and trays.
HONEYCOMB (PP)
Polypropylene-based, this material is extremely rigid. Multiple thicknesses/weights are available. Perfect for layer pads and pallet sleeves.
RETURNABLE PLASTIC BOXES
Plastic boxes can be used over and over to provide long-term cost savings.
RECYCLE BINS
Plastic corrugated recycle bins are lightweight and portable.
PARTITION SETS
Plastic partitions are lightweight but can help separate and protect parts during transport.
SLEEVES OR SIDEWALLS
Plastic material can be formed to create a "sleeve" to protect items using either a pallet system or cart.
OTHER APPLICATIONS
Sheets can be die-cut to fit any application.