29 Jan

Why The Campus Cruiser Is The Best Cart for College Move-in and Move-out

Moving in or out of a campus residence hall can be a logistical nightmare: there are so many eager students ready to move their stuff in or out of the residence hall that it can quickly become crowded. There may not even be enough luggage carts, or worse, the cart is too small to use for just one trip. Learn more about why the Campus Cruiser can make college move-in and move-out less of a hassle for students and parents and help your housing program improve the logistics of residence hall moves.
1. Student and Parent Satisfaction
The goal of many college campuses and housing programs is to make sure that students and parents are happy. When you provide students with a practical utility cart like the Campus Cruiser for their move-in or move-out, you make the task of moving less of a hassle by reducing what could have been 8-10 trips down to just 1 or 2 trips.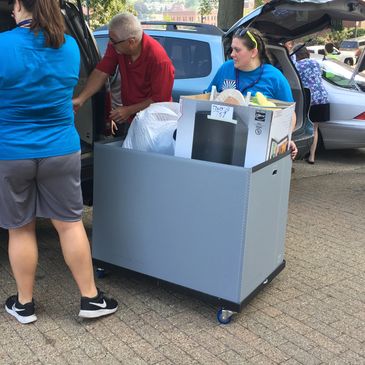 2. Maneuverability
Our Campus Cruiser has been designed to strike a balance between size, practicality, and maneuverability. While the Campus Cruiser is large enough to typically need only 1-2 trips during a move, it is sized to easily fit into residence hall elevators and doorways. 
Further, the cart utilizes an aluminum frame and tough honeycomb polypropylene sidewalls to provide a lightweight cart. With a 3" swivel caster wheel at each corner, the Campus Cruiser rolls smoothly around tight corners.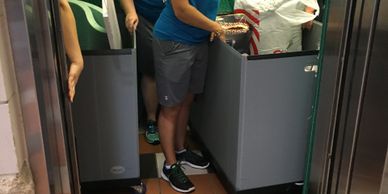 3. Collapsible, Stackable Design for Easy Storage
One of the top benefits of the Campus Cruiser is the efficiency of the collapsible, stackable design. Some universities utilize bellhop style carts that you would find in a hotel, which are much more difficult to store. The Campus Cruiser features removable sidewalls that easily fold and stack. Once the sidewalls are removed, the aluminum frame can also form a neat stack.
With this easy-to-store design, you are able to provide more carts to students during their move, with less worry about where to store the carts when they aren't needed.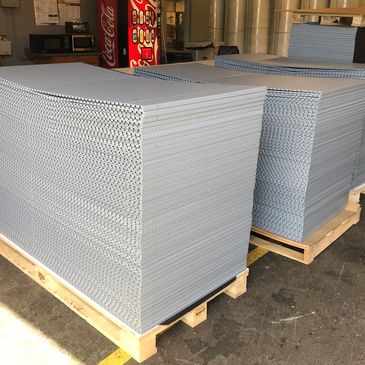 4. Lower Cost, Better Value
As we mentioned before, some universities provide bellhop style luggage carts to students for move-in and move-out. Our Campus Cruiser is often $100-300 less expensive per cart than bellhop style carts and it provides a better moving experience for students. At that level of savings per cart, you could easily save thousands of dollars when purchasing carts for your campus. Why pay more for a cart that is difficult and less space-efficient to store and can't move as many belongings as the Campus Cruiser? Further, accidents happen; should something break, we offer individual replacement parts for the Campus Cruiser, which is easier to repair than the bellhop carts.
5. More Uses Than Just Move-ins
While the Campus Cruiser is great for move-ins and move-outs and easily stores during the semester, many of our customers find great uses for the Campus Cruiser during the semester. The Cruiser comes in handy for trade shows, conference services, and more. 
Residence hall moves can be a hassle, but when students and parents are provided with the Campus Cruiser, you can take some of the burden off and make the move-in and move-out a breeze. If you are looking for a more cost-effective and efficient cart solution for your residence hall or university housing program, contact L-S today for more information about the Campus Cruiser.